If you are working on building your business, you will definitely get opportunities to speak to an audience.  20 seconds up to 30 minutes or even longer is a fantastic opportunity to market yourself and create connections that lead to potential prospects.  Unfortunately so many people waste these opportunities because they obviously have not prepared or practiced for these moments and yet this is an excellent moment to set up chances to grow their business.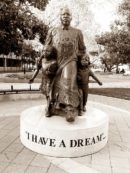 There are some people, many we have heard of, who connect with their audience before they even speak or as soon as they start talking.  People such as John F Kennedy, Martin Luther King, Mahatma Ghandi, Bill Clinton, Aung San Suu Kyi, Virginia Woolf, Gloria Steinem, Barack Obama and Lee Kuan Yew.  You can find recordings of them speaking on the internet.
Why not use Google to find them and listen to a few now?  Listen to as many speakers as you have time for.  Observe those you enjoy listening to and those you have problems listening to.  Learn what works and what doesn't and then practice your speaking until your friends and colleagues are impressed.  Incorporate those aspects and traits that suit your style.
Only a small percentage of speakers have this natural ability and it is very beneficial for you to develop this skill, unless you are one of the lucky ones who already have it.  Toastmasters is an excellent organisation to do this economically.  One warning about Toastmasters – Always be true to yourself.
Many Toastmaster develop speaking skills but unfortunately anybody who has been in Toastmasters can tell when you are doing a Toastmaster's format style speech.  Learn the speaking skills that can be gained at Toastmasters and use them to improve your skills without changing your true personality.
Speaking in public and to an audience of any size is a skill you can learn and master.  How ever long you get to speak, make sure you are well prepared for any such opportunity.  Do it well and you will get more opportunities.  This almost guarantees your business will grow because people will relate to you differently and want to hear more.  A great first step to creating new prospects.
The length of your session will dictate your opening.  There are several factors that create a good impression relative to your time.  The following considerations will help get a speaker off to a good start:
Eye Contact
Eye contact is essential.  It doesn't matter how big your audience is, always look at everybody throughout.  You don't have to look at individuals but it is important to take everybody in because then they will think you are looking at them.  If you don't then you risk losing their attention.
With smaller audience avoid focussing directly on any one person, especially if they look uncomfortable.  Maintain eye contact but not in a piercing manner.
Smile Smile Smile

Always present a friendly face.  Make yourself aware of your smile before you go up to speak.  When people are nervous they often forget to smile.  In our business we want to make connections and it becomes more difficult if we don't smile.
There may be times when you have to deliver a serious talk and obviously a smile will not be appropriate.  This should be rare in our business.
Establish Listening
The most important key to speaking is to open up listening from everybody in your audience especially for sessions longer than three minutes.  What is the point of speaking when people are not listening?  It is possible to become extremely competent at redirecting people's listening towards you at any point during your talk.
If you are only speaking for less than three minutes then you can use shock methods which include humour.  "Hello" is one way to get people listening because most people think you are speaking to them.
Shock tactics can also work with longer sessions and with meetings based on your UnFranchise Business but this should rarely be necessary because your audience usually has some idea of what you will be talking about and you will be prepared with your own attention method.
Questions are a great way to open up listening.  If you want to involve everybody then your questions should be inclusive of everybody.  For example: "How many of you know what to expect from this meeting?" and  "How many of you have no idea what to expect from this meeting?"  Make sure you put your hand in the air when you ask to tell people to raise theirs if the question applies to them.  You will know from their reaction if you have their attention.
Some people may not raise their hand to either question and as you get confident with this process you learn to play with this observation.  A good opportunity to use your humour.  This increases your connection with your audience.
Your questions may fail occasionally for various reasons.  Do persist and get their attention one way or another.
The process need not take more than a minute.  However it is important to maintain this listening status.
Never Compete With Your Audience
At many meetings, I have attended, speakers go directly into their content while people are still talking, still looking for seats or still turning up.  A big mistake if your purpose is to build rapport.  A speaker can use these awkward moments to deepen the connection with the audience before getting into their content.
Never try to compete with your audience.  Learn ways to handle all these concerns and hold the attention of all the people present.  Do not speak while this is happening unless you are speeding up their process.  Pausing is one powerful way to do this.  You will be surprised how potent the pause is.
When you speak be determined to ensure you have the attention of everybody.
Why You Are Speaking
Tell your audience why you are talking when your session is longer than three minutes.  In many cases you will be introduced by someone and they will tell the audience for you but you can still re-enforce or at least be ready to reinforce this because these people can forget and also get it wrong.
Your "Why" tells your audience why you are qualified to speak.  Some people need this before they will listen to you.
What You Are Speaking About
Research tells us most people prefer to know where they are going, so telling them is a positive step.  You need to prepare short succinct ways to give this to your audience.  All your talks within your UnFranchise Business are mostly around the same few topics and so it shouldn't take long to have all the possible options ready to deliver at any time.
♠  ♠  ♠  ♠  ♠  ♠  ♠  ♠
While you develop this skill you can begin working on your topics, structure and closing.  You can anticipate questions and be prepared with answers.  You will be amazed at how quickly you can become quite competent., which leads to more speaking opportunities.  I have personally seen amazing changes in speaking confidence within 6 to 12 months in the Toastmasters environment.